Hugh Downs
February 14, 1921 - July 1, 2020
The Hugh Downs School of Human Communication is aptly named for a man with a passion for life-long learning, a commitment to (and appreciation of) the role of communication in human interactions, and an ability to communicate effectively whether with one person or large and diverse groups. Although best known for his long and successful career as a professional communicator and broadcaster, Hugh Downs also earned certificates in geriatric medicine and social gerontology, published papers on the relationships between communication and physics, co-authored a volume on successful relationships with Ruth Downs, his wife of seventy years, and composed a cello piece debuted by Yo-Yo Ma. A man who demonstrates a nuanced understanding of human communication across a wide array of contexts, Hugh Downs personifies the school's mission of excellence in research, education and creative endeavors in the complex role of human communication in everyday life.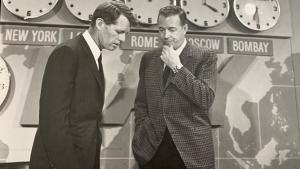 Hugh Downs is one of the most familiar American figures in the history of television. He was born in Akron, Ohio, and began his career in broadcasting as a radio announcer in Lima, Ohio. Hugh attended Bluffton College (Ohio), Wayne University (now Wayne State) and Columbia University. He holds a post-master's certificate in gerontology from Hunter College and holds honorary doctoral degrees from St. John's University (N.Y.), the University of Maryland, Daniel Webster College (N.H.), and Hunter College of the City University of New York. After serving in the U.S. Army, he joined NBC in Chicago as a staff announcer where he met his wife Ruth.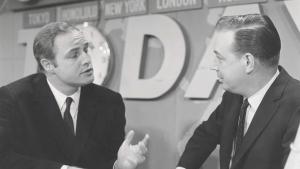 In 1954, Hugh joined the "Home" show on NBC, and from 1956-57 he was the announcer for "Caesar's Hour." Also in 1957, he helped launch "The Tonight Show" with Jack Paar and stayed with the series for five years. Concurrently, in 1958, he became the host of a daytime game series, "Concentration," where he became a household name. In 1962 he began a nine-year career as the host of NBC's "Today" program.  In addition to those hosting duties, he was a reporter and narrator for numerous news documentaries. For years, Hugh was co-anchor of the ABC news program, "20/20" and in 1989 celebrated 50 years in broadcasting.  More information about his career can be found on the Archive of American Television.
Hugh Downs the communicator
Although Hugh Downs was known around the world as a broadcaster, he thought having his name on a school of human communication was a perfect fit for him. He believed that communication, at all levels, is what connects people and creates understanding and knowledge.
Downs was also a master storyteller. When Downs came into ASU communication classes and talked to students, they were amazed at his life experiences, including the people he had met and the places he had been (such as Antarctica). He would tell students that the connections he made—through communicating with people from all over the world—gave him those experiences. 
ASU News articles about Hugh Downs
The Hugh Downs Collection
Hugh Downs was overwhelmed when he was asked in 1999 to lend his name to the communication school at Arizona State University. In 2013 Downs generously donated more than 650 of his personal and professional items to the Hugh Downs School of Human Communication  – from lifetime achievement awards  –  to his mother's poetry book.
The Hugh Downs Collection is intended to promote the pursuit of undergraduate and graduate studies related to the field of human communication, promote constructive dialogue and scholarly research related to the life and career of the school's distinguished namesake, and generally promote effective communication between individuals in all aspects of life. . 
The unveiling event presented an opportunity for faculty and staff to interact with the person for whom their school is named and to reaffirm their commitment to the field of communication.
Naming the School
Philanthropist Jeanne Herberger, a three-time alumna of ASU's School of Communication,
with a bachelor's degree, master's degree and PhD., is credited with the idea to name the school after Hugh Downs. 
"Jeanne and her husband Gary were good friends with Downs and his wife Ruth," said President's Professor Jess Alberts, who was also the school director at the time.

"She said Hugh Downs personified everything taught in the school, and I agreed."
Downs had just retired from the ABC show "20/20" in 1999 when they brought the idea to then-ASU President Lattie Coor.

Alberts remembers that he too thought it was a great idea to name the school after Downs. 
Not long after that, there was a press conference announcing that the school would now be named the Hugh Downs School of Human Communication.