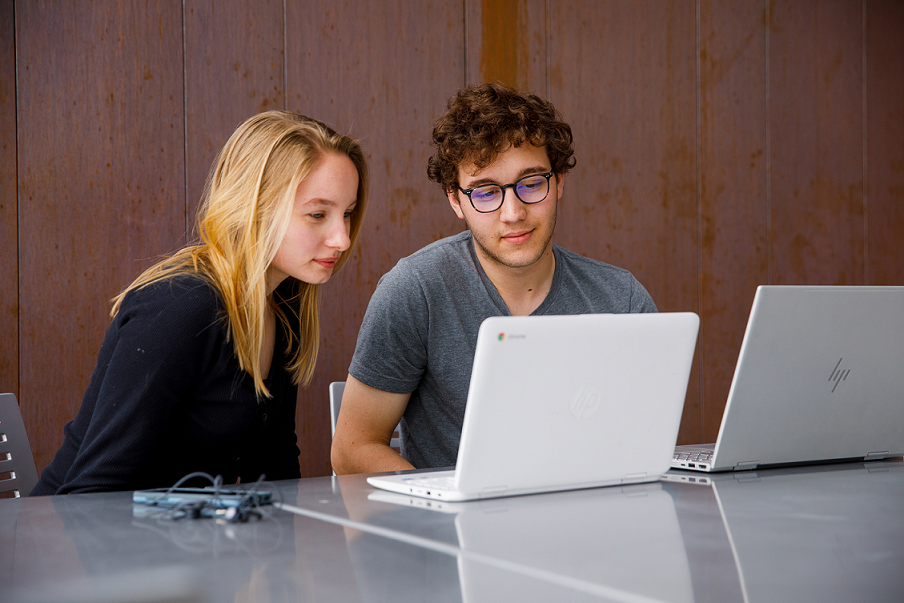 Pursue your communication degree online
ASU's Hugh Downs School of Human Communication is a leader in online education.
ASU Online programs are ranked among the best in the nation according to U.S. News & World Report. Plus, you'll be studying at the university that's ranked No. 1 in the U.S. for innovation for six consecutive years.
Our Online degrees are taught by the same full-time faculty as the on-campus programs. Many of these exceptional faculty members have received highly prestigious awards for outstanding achievements, extraordinary originality, innovative research and leadership in the field of communication.
Our online programs mirror our on-ground programs, allowing online students to experience lectures, discussion and faculty feedback in the same way their on-ground counterparts do.
Graduates of our online programs are awarded identical diplomas to graduates of our campus-based programs.
Feel empowered to accomplish your academic, professional and personal goals with top-tier support and services.
Learn about the differences between communication BA and BS programs and the jobs you could pursue with each here.
Available Online Degrees
Communication BS
Become a master communicator by developing skills that will help you thrive in your professional and personal life. Learn how to engage with and lead others, as well as how to think critically, evaluate data, and solve problems.
Communication BA
Communication is a key to success. Learn how to communicate effectively across various contexts and cultures to promote understanding, build social connections, and promote change in ways that create a better world. 
Communication MA
Are you interested in becoming a leader in your profession, changing careers, or creating more successful teams at work? In this program, you will develop professional skills to manage the modern-day challenges of communication in the workplace.
Meet Jen Eden, director of online learning at the Hugh Downs School of Human Communication.
A communication degree from ASU Online will help you develop key skills that will set you apart in today's competitive landscape and prepare you for limitless career opportunities.
ASU Online provides you the flexibility to advance your education and conduct research on a schedule that works for you.
BA vs. BS in communication: Jobs you can pursue with each
Learn about the differences between communication BA and BS programs and the jobs you could pursue with each here.
Online Communication Minor
The minor program in communication focuses on teaching
students how communication processes create, maintain
and transform identities, relationships, workplaces and communities.
Examples of Online Courses Offered
Relational Communication
 
Crisis Communication
 
 Persuasion and Social Influence
 
 Public Speaking
      
 Civil Communication
 
 Culture and Communicology
 
 Gender and Communication