Early Start
Your college career begins now!
Welcome new Sun Devils! We are excited to welcome you to your new academic home in the Hugh Downs School of Human Communication in the College of Liberal Arts and Sciences at Arizona State University!
The transition into an undergraduate program can be challenging. A new environment, new expectations, new challenges…Your success as a communication major is our number one priority, so each year the Hugh Downs School of Human Communication organizes a unique week-long immersion program.

During this program, you will join fellow communication students on an exciting and engaging journey to explore the importance of human communication in everyday life and how our program can prepare you for an ever-changing world. The program is led by faculty who are dedicated to our student's success. Students who participate in this special program have a head start on their academic careers.
About our program
The Early Start program in Communication offers you an introduction to a basic foundation of communication principles, including a preview of several courses, the role that communication skills play in landing a strong job out of college, and resources that will make your transition to ASU smoother. At Early Start, you will:
Explore the power of stories through movies, local artists, guest speakers, your own family members, and even your own journey
Meet and network with guest speakers including distinguished Hugh Down School Communication Alumni, outstanding communicators, current professors in our major, community leaders, and other role models
Develop important relationships with each other as well as with faculty, advisors, and Hugh Downs School Communication graduates
Learn about communication skills and how to apply them in leadership, teamwork, critical thinking, and listening
Learn about the library system, advising, health services, the writing center, career services, and many other resources offered to you as a student at ASU
Learn about the unique internship opportunities the Hugh Downs School has to offer
Learn how communication is involved in both professional and personal relationships
Explore careers that are possible with a communication studies major
Discover how communication is responsible for your personal and professional success
Our Early Start Team
Elissa Adame
Assistant Professor
Early Start Program Manager
Debbie Daly
Academic Advisor
Early Start Program Advisor
Join us
Participation in the Human Communication Early Start program is by special invitation only.
Space is limited so we encourage you to register early!
Schedule
During Early Start, you can expect to be busy each day throughout the entirety of the program.
And we promise — you will not be sitting and falling asleep in a classroom all day!
Registration is now open for the 2023 Early Start program.
Please check back on this year's program dates.
10 a.m. – 3 p.m. daily
All meals included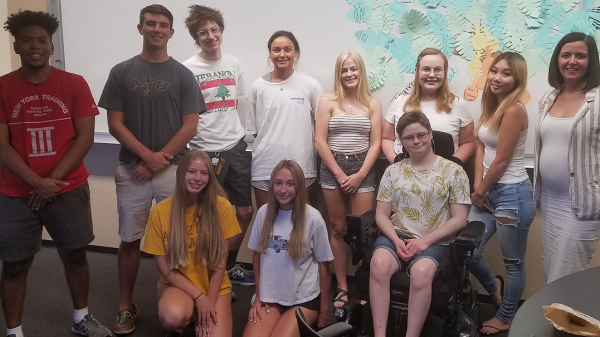 Explore your major in-depth