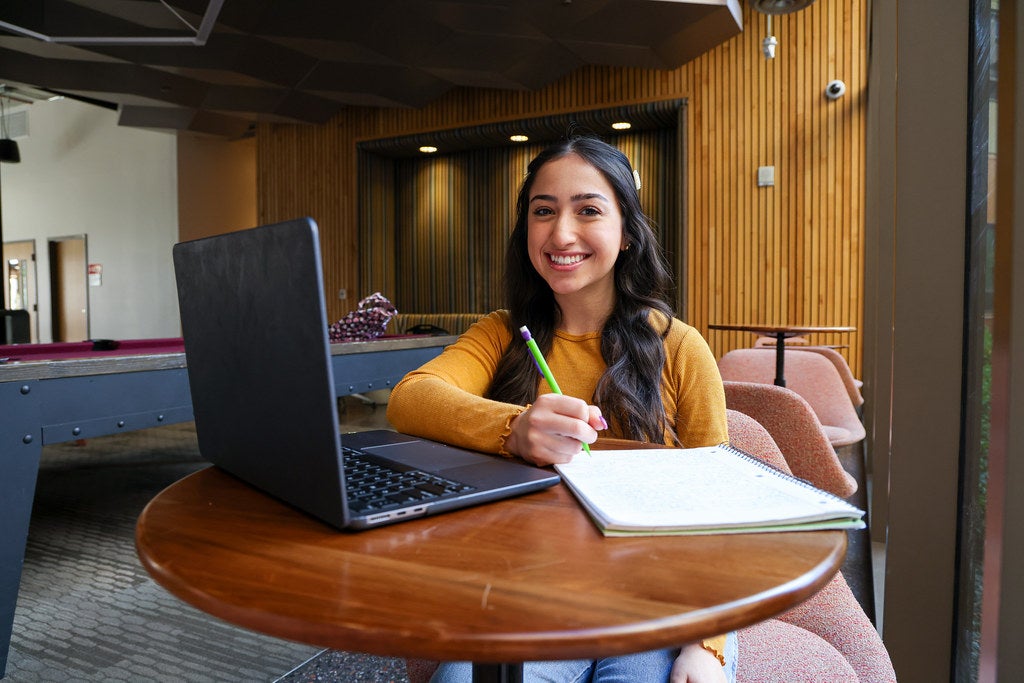 Why Study Communication at ASU?
Unique opportunities that last a lifetime
Distinguished scholars in communication
The national renown of our first-class programs and the success of our students exemplify the finest in higher education. Our faculty are well-known for their cutting-edge methodologies and innovative research and have developed transdisciplinary strategic initiatives to address the most pressing global communication issues of our time. 
Communication graduates are sought-after
Communication is ranked as one of the top five most sought-after career skills. The ability to communicate verbally and in writing with people inside and outside an organization is rated highly by employers in all job markets.
Communication skills
A communication degree is a smart choice. Whatever field you chose to pursue, you will develop skills that will help you excel.
Understand how to sell those skills to a potential employer, and you'll be able to successfully transition from undergrad to working professional.
Communication graduates are

sought-after

in almost any industry you can think of, and our graduates land jobs in an array of different fields, including:
ASU Com Grad Spotlight
Jon Rahm
Professional Golfer

Kara Goldin
Founder and former CEO of Hint Water

Matthew Desmond
Sociologist, Pulitzer Prize Winner

Neil Giuliano
CEO, Former Mayor of Tempe

Tim Vasquez
Owner, Someburros Restaurants

Jennifer Kaplan
Owner, Evolve Public Relations and Marketing
Ben Ellis
Founding partner and designated broker, E & G Real Estate Services
Tyler Thompson
Founder and owner, World Motors LLC
The job outlook for a communication studies major is

promising

. Employers often cite a lack of soft skills among potential job applicants and become frustrated with employees who have technical skills but cannot communicate properly.
When the National Association of Colleges and Employers (NACE) asked employers participating in its Job Outlook 2019 survey which skills and qualities—beyond a strong GPA—they most want to see on students' resumes, more than four out of five indicated

written communication skills

, making it the most sought-after attribute this year.

Verbal communication skills

came in at number seven.
Attributes Employers Seek on a Candidate's Resume:
| | |
| --- | --- |
| ATTRIBUTE | % OF RESPONDENTS |
| Communication skills (written) | 82% |
| Problem-solving skills | 80.9% |
| Ability to work in a team | 78.7% |
| Initiative | 74.2% |
| Analytical/quantitative | 71.9% |
| Strong work ethic | 70.8% |
| Communication skills (verbal) | 67.4% |
Source: Job Outlook 2019, National Association of Colleges and Employers
Career Outlook
Our undergraduate programs provide a liberal arts grounding and a social science focus. Graduates of our programs are prepared to pursue careers that require effective communication skills and critical thinking.
Some of our graduates attend graduate schools in communication, law or business. Communication graduates are sought-after in almost any industry you can think of.
Careers *growth *2020 median salary
Public Relations Specialist 8.8% $59,300
Public Relations Manager 10.4% $111,280
Training and Development Specialist 8% $62,700
Event Planner 8% $51,560
Human Resources Manager 6% $121,220
Green Marketer 5.5% $106,130
Medical and Health Services Manager 10.5% $98,350
* Data obtained from the Occupational Information Network (O*NET) under the sponsorship of the
U.S. Department of Labor/Employment and Training Administration (USDOL/ETA).
Undergraduate Research Opportunities
Independent Study
COM 499
This course provides an opportunity for original study or investigation in the major or field of specialization on an individual or more autonomous basis. The application requires the instructor's signature, advisor's signature, and approval by the director of the school offering the course
1-3 credits
Fall and spring offerings
application required
Applications are available at Forms or contact the Hugh Downs School office at 480-965-5095 or stop by Stauffer Hall, 412A.
Study with world-renowned academics
Our in-person and online communication degrees are taught by award-winning experts in the field of communication. You'll learn from interpersonal, intercultural, organizational scholars and more from ASU's The College of Liberal Arts and Sciences.

ASU Online programs are ranked among the best in the nation according to U.S. News & World Report. Plus, you'll be studying at the university that's ranked No. 1 in the U.S. for innovation for six consecutive years. Feel empowered to accomplish your academic, professional and personal goals with top-tier support and services.