About
School Director Sarah J. Tracy
In this role, Tracy directs one of the world's largest communication schools and administers five degree programs — which include approximately 2,000 undergraduate majors, 250 online master's students and 50 doctoral students. 
We explore communication in everyday life,
from families to workplace and from religion to culture.
What we study
 

INTERCULTURAL COMMUNICATION involves the study across cultural and intercultural contexts of verbal and nonverbal messages, the dynamics of human interaction, the challenges of intercultural transitions, and the intricacies of intercultural relationships.

 

HEALTH COMMUNICATION creates advances to forge innovative approaches in health care for all citizens and also helping youth make better decisions about personal choices associated with their own health outcomes.

 

INTERPERSONAL COMMUNICATION involves the study of verbal and nonverbal messages in the interaction between individuals through general communication, romantic interest, family relation, interests, work, and so on.

PERFORMANCE STUDIES is concerned with communication embedded in aesthetic texts and contexts offering courses that provide students with a multitude of communication and critical performance experiences.

 

ORGANIZATIONAL COMMUNICATION study adopts a multi-perspective, dynamic approach to the study of organizational life because organizations are increasingly complex.

RHETORIC AND PUBLIC COMMUNICATION emphasizes the critical, historical and theoretical study of public communication, including U.S. public address, rhetorical criticism, argumentation, rhetorical theory, cultural theory, feminist rhetoric, and popular culture.
Our Research & Initiatives
CENTER FOR STRATEGIC COMMUNICATION promotes advanced research, teaching and public discussions of the role of strategic communication in the public sector, connecting what we know about persuasion, social influence, message campaigns, and critical strategies.

HEALTH COMMUNICATION INITIATIVE explores the complexities of health communication in an increasingly global world and provides guidance and locally-specific solutions on how to influence effective health-related communication.

CIVIL, CRITICAL, & CREATIVE COMMUNICATION mobilizes resources from rhetoric, performance, and critical-cultural studies to explore the intersections of civil, critical, and creative communication.

 

THE TRANSFORMATION PROJECT focuses on communicatively transforming lives and relationships at all levels of human interaction, promoting creative change processes that encourage healthy communication patterns, collaborative group behavior, and equitable forms of social organization.

 

THE EMPTY SPACE is a performance venue that features scholarship developed by students and faculty. Performance projects foster theoretical and practical explorations of performance and performativity with a humanistic focus on social discourse.


ICGLOBAL promotes communication research, teaching, and practice that advance knowledge and competences for living and working in our increasingly diverse and connected world. 
Explore our Research and Initiatives
$8 million
awarded in Research since 2008
Top 10
Research Program in 41 of 99 Research Areas, CIOS
25:1
student-to-faculty ratio
Hugh Downs
Hugh Downs, one of the most familiar American figures in the history of television, was a role model for communication effectiveness to the American public for more than 50 years.
"Hugh Downs was a man of great integrity who was an exemplar of the very best of journalism, America's Fourth Estate," said ASU President Michael Crow. "His name is synonymous with the complex role of human communication and the university will continue to honor his impact through educating future leaders in this field through the college that bears his name."
"The national renown of the faculty, the first-class programs, and the success of the students
exemplify the finest in higher education"
-Hugh Downs
 
Our History
The making of the current Hugh  Downs School of Human Communication represents over a century of almost continuous change. The commitment to the study of communication began in some part during the early years as part of Territorial Normal School in 1888, later becoming Arizona State Teachers College and finally Arizona State University. The Department of Communication was officially titled in 1978, becoming part of the College of Public Programs in 1979. Through the more than a century of continuous change, the focus has been maintained on the ever-fascinating process of human communication. 
In 1999, the school was renamed the Hugh Downs School of Human Communication, part of the College of Liberal Arts & Sciences, and was heavily funded for professorships, scholarships and programs.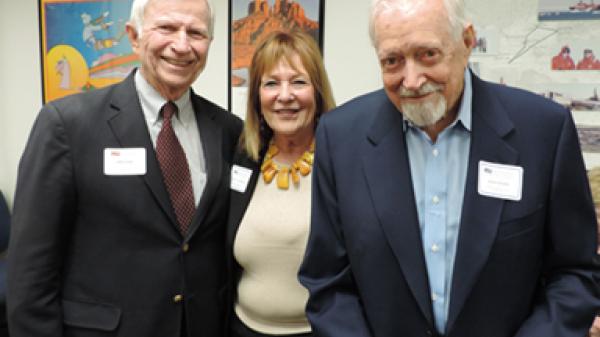 Lattie Coor, former president of ASU when the school was named, stated that "When the program of communication at ASU was clearly building the reputation, the capacity, and the kind of plan to become a school, we knew we wanted to name the school for someone who represented in every respect the qualities of human communication and Hugh Downs was the name by a country mile."
"I was overwhelmed with the honor of having a school named after me and I have had so much satisfaction and gratification being connected with ASU in this way. I didn't realize until then that I had been devoted to communication of some sort for quite a while in broadcasting because if you don't make yourself clear, then you are not communicating," said Hugh Downs.
The Hugh Downs School of Human Communication is aptly named for a man who personified the school's mission of excellence in research, education and creative endeavors in the complex role of human communication in everyday life.